EMV and NFC Devices
As a leading provider of innovative, integrated payment solutions, Epic Payment Systems supports EMV and contactless payments, such as Apple Pay. We stock a wide array of affordable, state-of-the-art equipment, enabling merchants nationwide to accept the latest forms of payments and deliver faster, more secure transactions.
PAX S80
An advanced countertop POS terminal which combines innovation, durability and high performance to assure faster, more reliable transactions. The PAX S80 offers advanced connectivity, equipped with various communication technologies such as Dial and Ethernet.
PAX MT30
A full-featured customer-facing, multilane POS device which offers retailers an innovative branding channel. Combining high-security payments and outstanding durability, the MT30 features a responsive capacitive touch screen and electrostatic pen to enable electronic signature capture.
PAX S300 PINpad
The lastest integrated retail payment solution for multilane merchants who wish to offer high levels of security combined with contactless, e-Signature, magnetic stripe and EMV. With state of the art levels of security design, the S300 protects and encrypts all transaction information.
PAX D210
An ideal pay-at-the-table payment device designed to interact with customers. Supporting Bluetooth, WiFi, GPRS, 3G (WCDMA) or cable connection, the D210 connects to a wide range of existing and new smart devices to keep up with an emerging marketplace.
Verifone Vx520
A reliable countertop device that's built to last. Handling encryption, decryption and processing at lightning speeds, thanks to its powerful processor and expandable memory. Integrated NFC capabilities support alternative payments and also supports value-added applications such as loyalty or gift card acceptance.
Clover
Whether at the local farmer's market or at a customer's job site, Clover enables you to accept payments on the go, wherever you have a WiFi or cellular connection. With Clover Mini, Clover Mobile, and Clover Go, you can begin accepting EMV payments right out of the box!
Z8 Dual Comm
Features:
-Dual Comm with EMV and NFC Contactless Built In
-2.4" Color LCD with backlight
-192 MB of Memory (128 MB RAM/64 MB DDR RAM)
-PCI PTS Certified
-EMV 4.x L1 and L2 Certified
-Visa payWave, MasterCard PayPass
-American Express & JCB J/Speedy Certified
-32 bits 400MHz High Speed Microprocesssor
-Portable Design with Handset and Base Unit
Z11 Touch Screen
Features:
-Dual Comm with EMV and NFC Contacless Built In
-3.5" TFT LCD with PCT Touch Pad
-2.4" Color LCD with Backlight
-192 MB of Memory (128 MB RAM/64 MB DDR RAM)
-PCI PTS Certified
-EMV 4.x L1 and L2 Certified
-Visa payWave, MasterCard PayPass
-American Express & JCB J/Speedy Certified
-32bits 400MHz High Speed Microprocessor
-Portable Design with Handset and Base Unit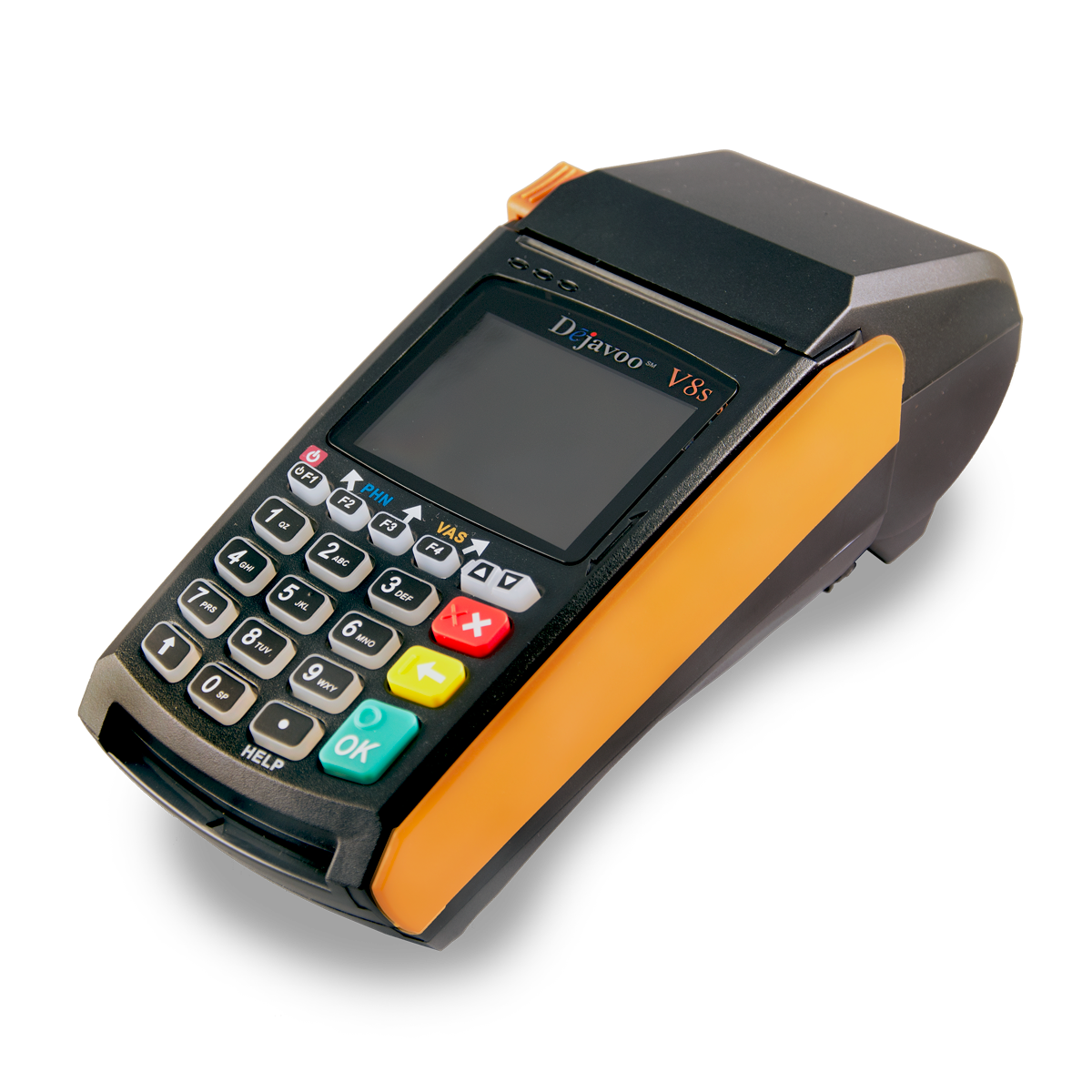 V8S Dual Comm
The Dejavoo Countertop Dual Comm V8S with its Ethernet and Dial option deliver a powerful punch without sacrificing security. This payment solution includes multiple applications, built in PCI Secure PIN Pad, Built in EMV Smart Card reader, large back lit display and proven software that is "a la cart" loaded with added value services, offered by Resellers and requested by Merchants.
Payment technologies have changed.
Are you prepared?
You may have heard about an advanced type of payment technology - EMV, the new standard for paying with debit and credit cards. Fitted with a chip, EMV cards further authenticate credit and debit transactions, providing enhanced security measures to safeguard payments. While rather new to the United States, Europe adopted EMV years ago.
For businesses nationwide, the switch to EMV means adding new in-store technology to accept EMV-enabled chip cards and more effectively protect sensitive card data; however, the importance of EMV-readiness is beyond a new terminal or POS system - it means protecting your business from financial impact caused by potential fraudulent transactions. We can help! Epic Payment Systems has the leading EMV solutions to ensure you're prepared to accept the latest, most secure forms of payment and comply with the new liability rules.
Download our handy infographic for additional information regarding EMV and the liability shift.
Accept EMV and contactless payments.
Select the equipment options best for your business.